Tahoe Nugget #195:
Tahoe Dodges a Bullett
December 21, 2010
It's the first day of winter and Lake Tahoe is already well into what looks like a strong and profitable ski season.
Fortunately for local businesses, ski resorts and travelers, the hose of subtropical Pacific moisture that inundated the Lake Tahoe region with rain and snow over the past week has shifted south. And despite the prospect of a fast moving storm sweeping through Northern California on Christmas weekend, the vigorous and persistent "Pineapple Express" weather pattern that threatened the region with floods and extreme avalanche danger has shifted and is now targeting California's southland.

Infrared satellite image from four kilometers depicts deep moisture surging into Northern California and Sierra. Subtropical moisture is driven by low pressure from the Gulf of Alaska.
As of December 21, Tahoe's major resorts were boasting hefty snow packs ranging from four feet to more than 12 feet deep, not bad for the first day of winter. At the upper elevations, storm accumulations were very impressive, with most ski areas reporting between four to seven feet of new snow. Mammoth Mountain in the Central Sierra was the winner in storm totals, picking up 162 inches (13.5 feet) of fresh snow at the ski area near 11,000 feet. Kirkwood Mountain Resort south of Lake Tahoe has tallied more than 300 inches (25 feet) of snow already this season.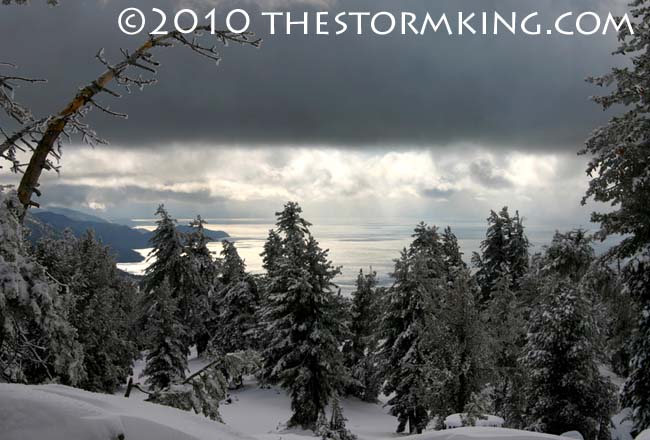 Storm surging into Lake Tahoe Basin.
The storm was intense, but relatively short-lived and failed to break any official records. California's single storm snowfall record was set in Feb. 1959 when Mount Shasta picked up 15.75 feet in six days. Although the data are unofficial, it is estimated that 14.5 to 16.5 feet of snow fell at Tahoe Meadows (8,500' elevation) near Mount Rose from Feb. 12 – 20, 1986.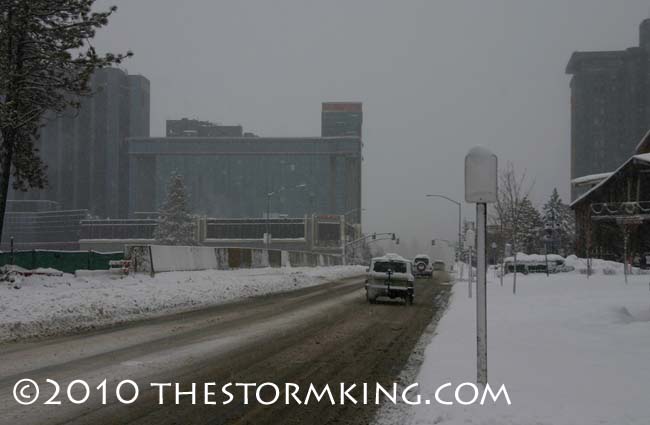 South Lake Tahoe casinos on December 20, 2010.
Indicative of the very strong jet stream that pumped all that moisture in from the ocean, the National Weather Service reported wind gusts on December 19 of 63 mph at the Truckee Airport; 155 mph at Alpine Meadows; and a peak gust of 164 mph at Mammoth Mountain's Chair 1.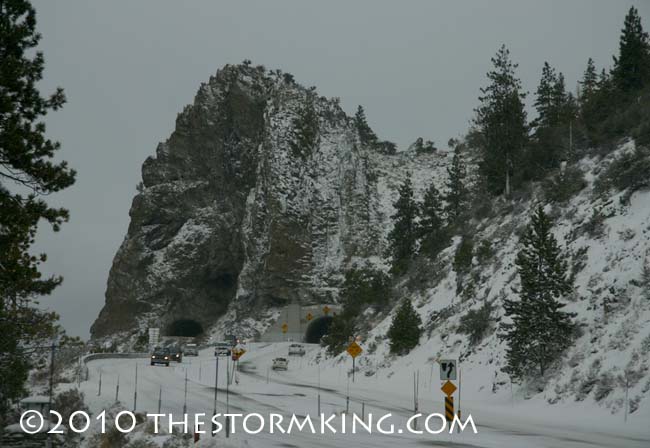 Snow covered Highway 50 approaching Cave Rock tunnels, an ancient volcanic throat.
Most importantly, the wet storm soaked the Tahoe and Truckee River basins with plenty of water. Precipitation totals reached nearly 10 inches at Incline Village on Tahoe's North Shore, and 6.5 inches at the Alpine Meadows ski area, a blessing for our drought affected ecosystems. The snowpack at 8,200 feet at Squaw Valley currently holds 31.5 inches of water while it's even wetter to the north where the snow water equivalent is 44.5 inches at Lower Lassen Peak, most in the State.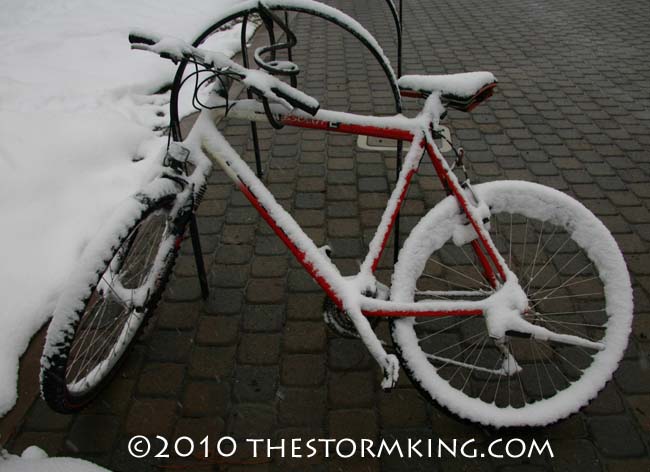 Tahoe lifestyle.
Northern California dodged a bullet this time and avoided potential serious flooding because a deep low pressure system born in the Gulf of Alaska filtered colder air into the warm, moist flow of subtropical moisture pouring into the region. The cooler air associated with this rotating low managed to keep snow levels from rising too high so the existing snowpack at the upper elevations increased and did not melt. Widespread flood events usually require heavy rain, snow levels above 8,000 feet, and a rapidly melting snowpack. These "wet mantle" events have historically generated California's most damaging wintertime floods.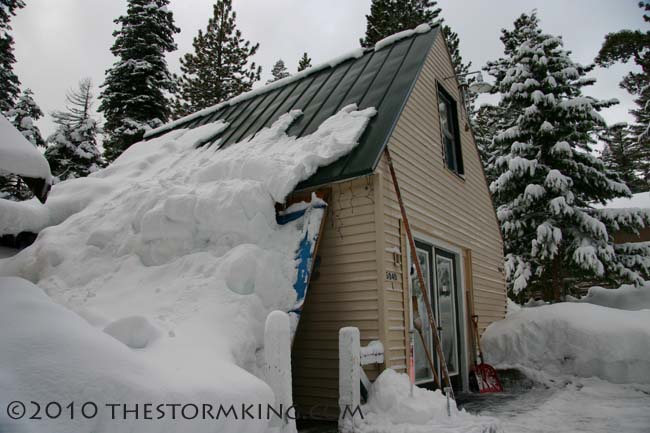 Cabin on first day of winter.
Forecasters have been concerned about a possible flood this winter due to the influence of cooler sea surface temperatures, a cyclic atmospheric and oceanic oscillation called La Niña. Virtually all of California's most destructive floods have occurred during La Niña-influenced winters. We're fortunate to get all this water early in the season since La Niña-influenced winters can trend drier than normal and tend to end early. For now, however, precipitation is running well above normal. Precipitation in the Truckee and Tahoe basins ranges from 195 to 230 percent of normal for the date. Incredibly, water content in the Lake Tahoe Basin snowpack is 53 to 73 percent of the expected seasonal total, good news come spring.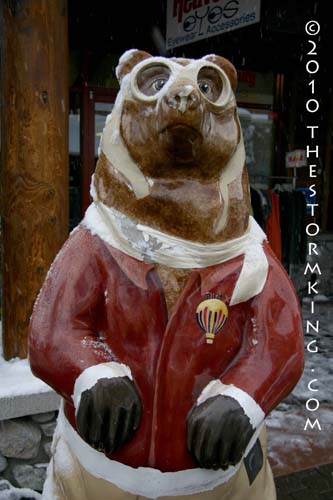 Eyeglass store bear advertisement.