Tahoe Nugget #194:
Tahoe Braces for Storm
December 16, 2010
Just before this past Thanksgiving holiday, Lake Tahoe ski resorts were buried under the biggest November snowstorm since World War II. The potent weather system was unusually cold for that time of year and it blanketed the Sierra with up to 11 feet of powder. Within days skiers and snowboarderss mobbed major Tahoe resorts, which all opened with great conditions and top to bottom skiing.
The first two images show the La Nina influence on the jet stream and the progressive pattern of these moist Pacific storms. (Note the similarities in the illustrations and the current satellite image.)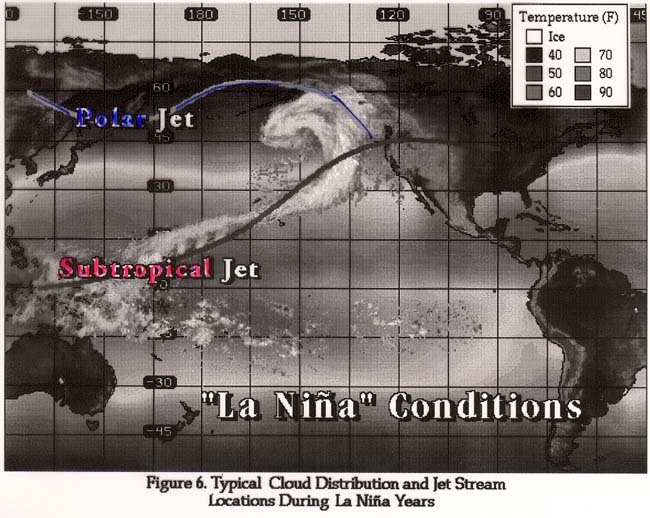 La Nina winter influences storm-steering Pacific jet stream.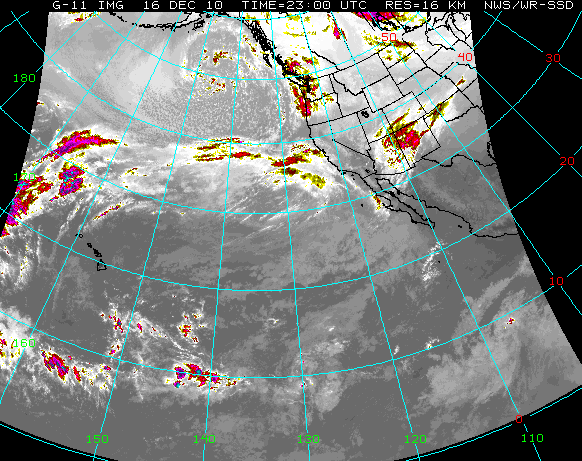 Note how large areas of moisture can be monitored by forecasters as they migrate from East Asia across the Pacific to the West Coast.
For several days now the National Weather Service has been predicting that a juicy surge of Pacific moisture is poised to strike Northern California this weekend. In fact, it's a two-punch storm sequence that hydrologists are warning may last nearly a week, with the potential to cause flooding on either side of the Sierra.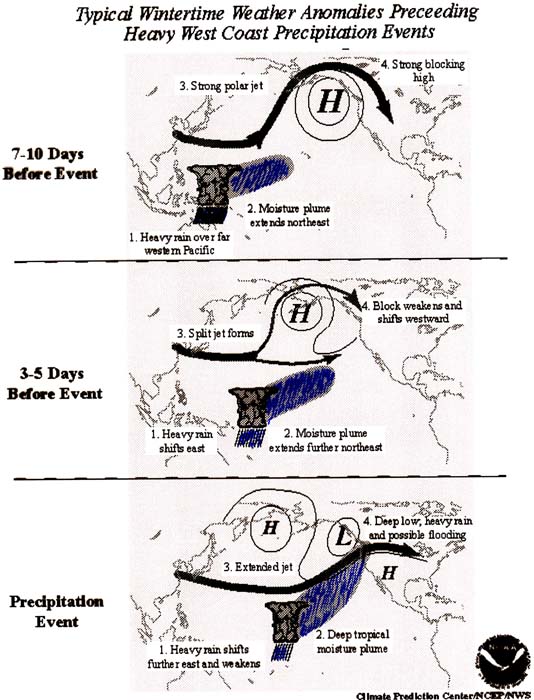 Infrared satellite showing the synoptic setup for December 16, 2010.
In contrast to the November storm, this current developing pattern won't have the ultra cold air support to produce the fluffy flakes like before Thanksgiving. Instead of 11 feet of powder, the High Sierra will get pounded by 3 to 6 feet of heavy, wet stuff, or as the locals fondly call it, "Sierra Cement."
Strong wind will accompany the storm with gusts of 40 to 60 mph possible in the lower elevations and gusts of 100 mph or more over the ridges. Heavy snow on the major highway passes will make traveling by car this weekend a nightmare at times. Motorists are being advised to change their plans or plan for travel delays and road closures. The huge dump of snow will load the slopes and make for extreme avalanche danger in the backcountry away from maintained ski resorts.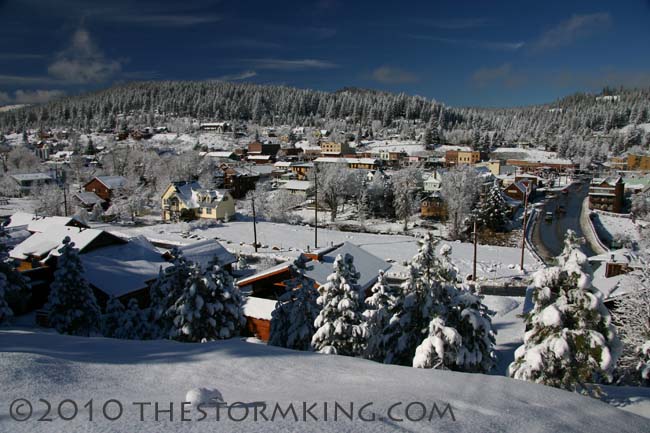 Downtown Truckee looked like a picture postcard yesterday, December 16, 2010.
Snow levels are projected to fluctuate making the accumulation forecast tricky. Snow levels mostly depend on where the sub polar jet stream sets up. A deviation of only 50 to 100 miles can make a significant difference at what elevation the snow/rain line may be. Current forecast thinking keeps Tahoe snow levels in the 6,000 to possibly 7,000 foot range which may mean periods of rain at lake level (6,228 feet) at times, but it should be mostly snow at the ski resorts. Up to 30 inches of snow may bury lake level communities this weekend.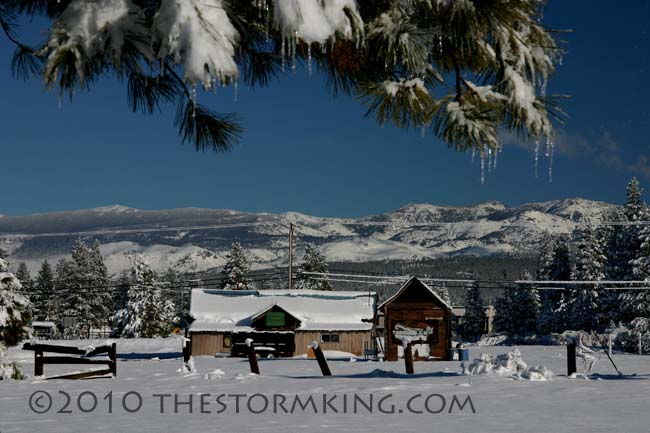 Winter scene from Truckee looking east toward Mt. Rose.
Weather watchers like me have been somewhat expecting a potential flood event this winter, especially in December. The influence of the strong La Nina event in the Pacific Ocean trends toward a weather pattern that can tap a moist subtropical flow known in the West as the "Pineapple Express." Virtually all of California's most destructive floods have occurred during La Nina-influenced winters, so this approaching potent system should come as no surprise. Another one is expected next week.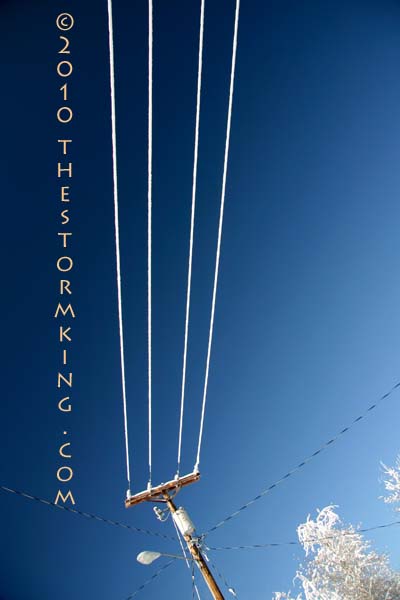 Snow encrusted power lines in Truckee.
This winter is off to a strong start; precipitation in October was 253 percent above normal and November dumped all that snow. The saturated soils will be unable to absorb much of the expected rain which increases the flood potential. Interestingly, this winter's precipitation plot line is closely following the trajectory of 1982-1983, the wettest year on record. During the winter of 1983, nearly 90 inches of precipitation inundated the region, including 56 feet of snow measured at Donner Pass.