Tahoe Nugget #183:
Sierra Water Surge
May 5, 2010
We all knew it in our guts, but now that the May 1 snowpack data are in it's confirmed. The vigorous April storm track dumped loads of snow in the Sierra and boosted the snowpack's water content significantly. That's good news all around since water levels have been low for several years now.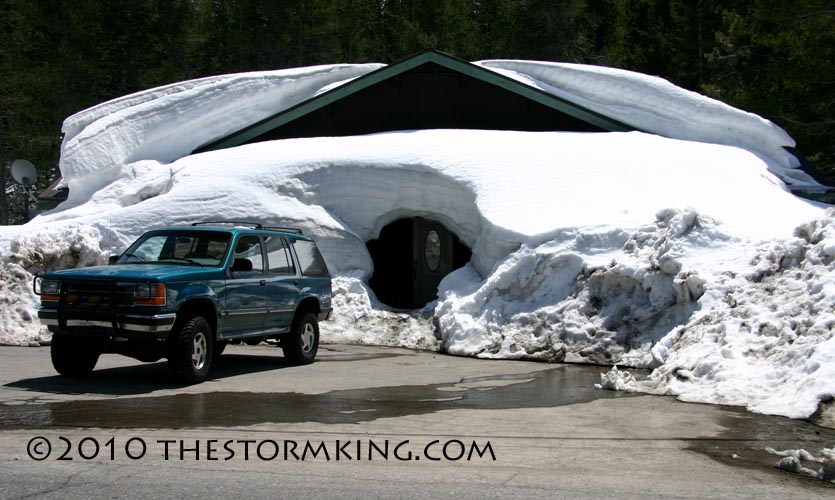 Spring comes slow to the residents of Norden, California. May 2.
Rain and snowfall for the month ranged between 200 and 300 percent of normal statewide (San Francisco 287%), enough to push many locations in California ahead of their precipitation average for the entire season, which ends June 30 for most areas. (Sierra water year runs from October 1 to Sept. 30.)

Currently the amount of water locked in the Sierra snowpack, California's largest source of water, is 143 percent of normal and double last year's water content for the same period. That's good, but the state is still pumping only 30 percent of the water allotments requested by farmers and water agencies in the Central Valley and Southern California. The restrictions are mainly due to low water levels at Lake Oroville, the state's second largest reservoir, which is only 71 percent full.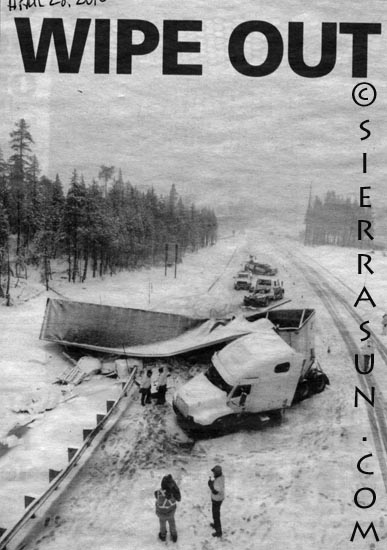 High winds and blowing snow combined to shut down Interstate 80. Courtesy Sierra Sun newspaper.
Despite the healthy snowpack, Governor Arnold Schwarzenegger does not plan on declaring an end to the drought because important reservoirs, such as Oroville and Tahoe, remain low from the 3-year dry spell.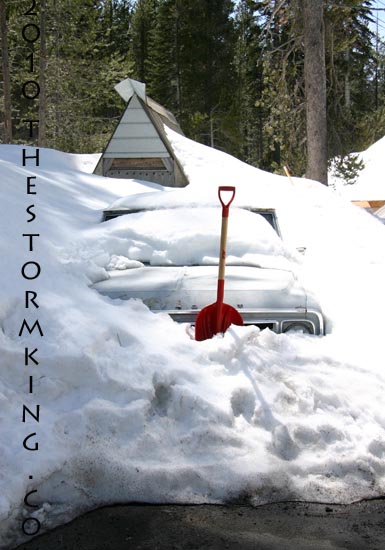 Still digging out in May.
The series of winter-like storms in April provided a ton of fresh powder in Tahoe, which fired up skiers, snowboarders, snowshoers and anyone else who enjoys snow sports. Squaw Valley USA picked up 8.5 feet of new snow on its upper mountain in April, and 11.5 feet if you count the last two days of March. The ski area has received a total of 539 inches of snow so far, just about 45 feet.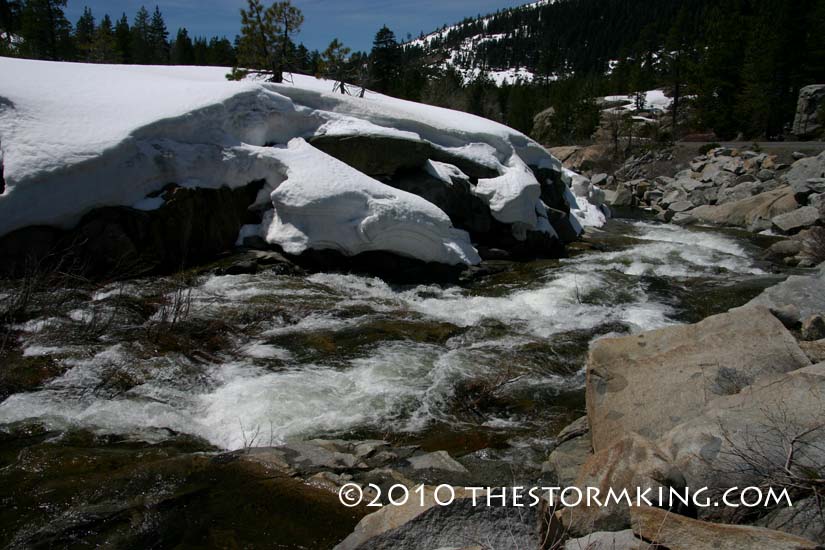 The flow in the South Fork of the Yuba River is ramping up.
The Squaw Valley and Alpine Meadows ski areas are both open with top to bottom snowcover, still running chairlifts for spring skiing
aficionados, including the very popular KT-22 lift at Squaw.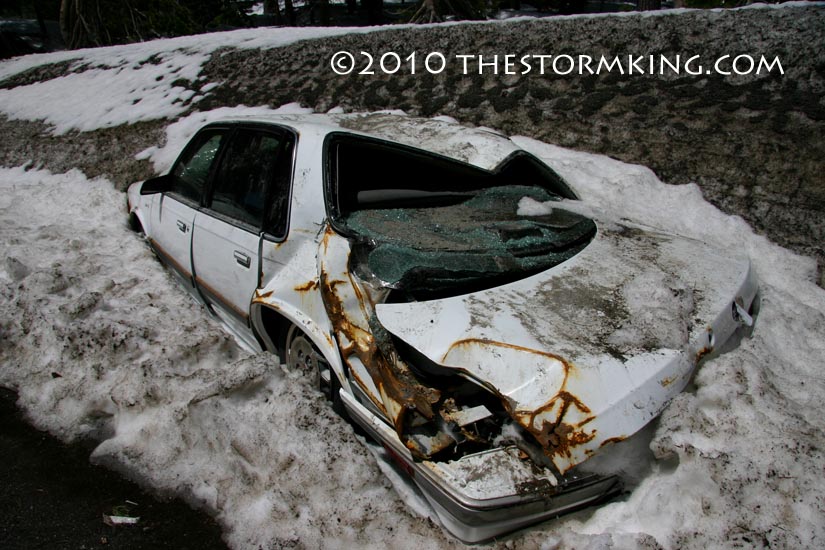 This totaled vehicle may very well be the result of simply a flat tire. NEVER leave your car on the side of a road during a Sierra snowstorm. You won't find it until May, and it probably won't be worth much either.