Tahoe Nugget #151
Columbus Day Storm & 1962 World Series
Oct. 6, 2008
Tahoe experienced its first winter-type storm last weekend which brought wind, rain and snow above 8,000 feet in elevation. It was a well advertised system, but four hikers did not anticipate the event and they were caught on the Sierra Crest just a few miles south of Donner Pass and Interstate 80.
The group was hiking a portion of the Pacific Crest Trail, along the ridgeline that marks the western margin of the Lake Tahoe Basin, when they were caught at Tinker's Knob near 9,000 feet. Conditions were very bad with rain, snow and high winds, but three of them survived the night by huddling together. One of the four had become separated as night fell and despite contact by cell phone the 62-year-old woman spent the night alone and died from exposure the next day.
October, the month when baseball fever is at its peak, is usually one of the driest times of year in sunny California. But as with any sporting event, where the outcome is never certain, weather patterns can be capricious and upset the norm — as people found out on Columbus Day weekend in 1962, when the remnants of Typhoon Freda roared in out of the Pacific.
The potent tropical storm took nine days to cross the Pacific Ocean from Wake Island, and along the way it merged with a vigorous cold front to become an intense mid-latitude cyclone bearing down on the West Coast. Although the storm steered north before its center made landfall in California, four days of high wind and torrential rains took 56 lives and caused $250 million damage. More than 40 years later, this rare tropical storm still ranks as one of the worst in California weather history.
TYPHOON FREDA WASHED OUT THE 1962 WORLD SERIES:
It was early October 1962, and media attention was focused on San Francisco and the World Series. The San Francisco Giants were down three games to two against the New York Yankees, with game six, and seven if necessary, scheduled at San Francisco's Candlestick Park. The mighty Yankees were going for their 20th World Series Championship, but the scrappy Giants intended to stop them at home.
During its long ocean crossing from Asia, Typhoon Freda was downgraded to an extra-tropical storm, but she still packed winds like a full-blown hurricane. Along the California coast, gale force winds and a soaking rain in advance of the main storm system forced the postponement of game six scheduled for Friday, October 12 and meteorologists warned both residents and baseball fans that Frieda was no ordinary storm.
Three hundred miles offshore, Freda veered sharply north. Tracking up the West Coast, the storm blew down millions of trees along a thousand miles of coastline. Flying debris took the lives of many people caught outdoors or in their cars. In Oregon, where the storm is still remembered as "The Big Blow," wind gusts reached 170 mph and damage was extensive.
The Golden State was spared a direct hit, but San Francisco recorded more than 7 inches of rain. At Candlestick Park, the tropical deluge flooded the outfield and parking lot. Despite the deadly conditions, hundreds of die-hard baseball fans camped out Friday night in hopes of getting one of the 2,200 bleacher seats available for Saturday's sold-out game.
Giant's pitching coach Larry Jansen considered the rain-delay fortuitous, figuring that it gave another day's rest for his veteran left-handed hurler, Billy Pierce. Thirty-five-year-old Pierce, 12-0 at Candlestick that season, was matched against the legendary Whitey Ford, the Yankee's ace left-hander and most successful pitcher in World Series history.
Other San Francisco players were exhausted as well and appreciated the delay. Willie Mays told reporters that the team was tired from the long 162-game season plus the playoffs against the Los Angeles Dodgers to win the pennant. On the other hand, Yankee manager Ralph Houk was more concerned about the rain delay affecting his sluggers, explaining, "We've had too many off-days for hitters who haven't been hitting anyhow. It's bad when they can't face some pitching for two or three days."
The Yankees were getting bored, but they were still favored to win the sixth game and the series. Houk's worries about the lack of play grew when torrential rain on Saturday postponed that game too, the third rain-delay in the Series. His concern mounted when the flooded field forced the postponement Sunday's game also. By now both managers wanted their players out practicing and on Sunday the two teams were bussed to a minor league field in Modesto. Sixteen thousand frustrated fans showed up at the 5,000-seat park to watch their favorite sluggers like Mickey Mantle, Roger Maris, Willie Mays and Yogi Berra lay some wood on the ball.
Meanwhile, in the Sierra, the tropical deluge set precipitation records. Blue Canyon at 5,000 feet on the Sierra west slope picked up 9.43 inches of rain in 24 hours. Nearby Lake Spaulding was hammered with 23 inches of rain in three days, a new record. More than 200 weather stations in northern California reported their greatest 3-day rainfall event ever. In fact, 30 stations received half their annual average precipitation from this one storm.
But storm or no storm, the World Series must go on. By Monday, October 15, sunshine and three helicopters hovering over the field had dried the sodden turf enough for the athletes to play ball. Nearly 44,000 screaming fans showed up to cheer the Giants on. A well-rested Billy Pierce delivered a three-hit, 5 to 2 victory over the mighty Yankees to dramatically tie the series at three games apiece.
Game seven was another thriller. Played under sunny skies, it saw the Yankees ahead 1-0 in the seventh inning when the Giants came to bat. Willie Mays tagged a fastball, but a dazzling one-handed catch by rookie Tom Tresh snuffed the potential drive. May's line drive could have been a double — and an instant later it would have become a run on a rousing triple by Willie McCovey.
The Giants, who all season long had specialized in come-from-behind victories, made their biggest run at victory in the ninth, but brilliant pitching shut the Giants down for good. It was a classic clutch performance by the Yankees, and it gave them their 20th World Series championship. Even Typhoon Freda couldn't change that pattern.
Photo #1: Typhoon Freda whacks West Coast.
Photo #2: Baseball players wait out a downpour.
Photo #3: San Francisco Giants tie World Series at 3 to 3.
Photo #4: Freda can't stop New York Yankees from winning another World Series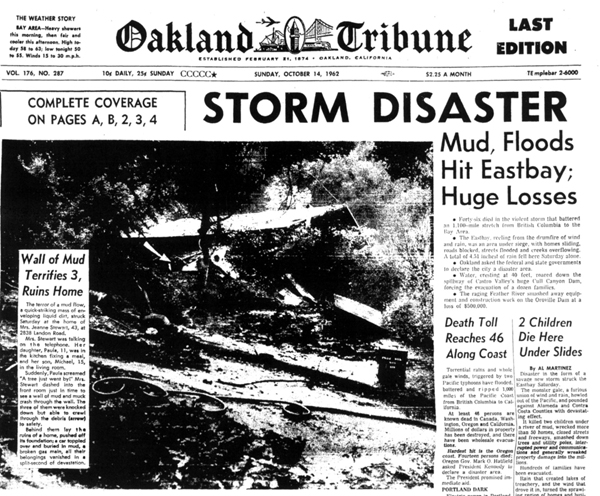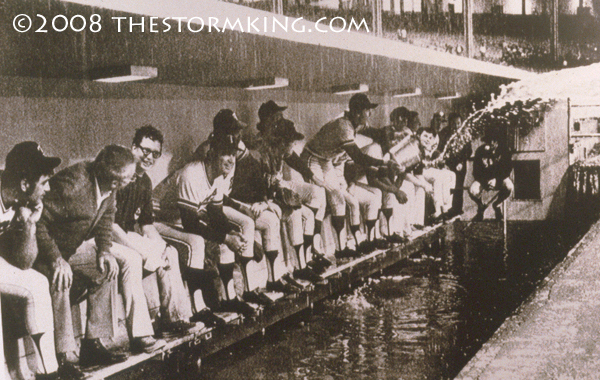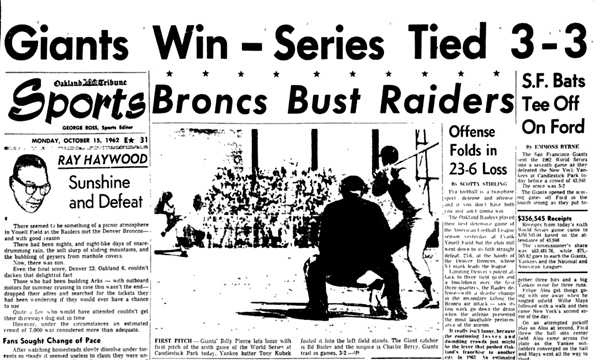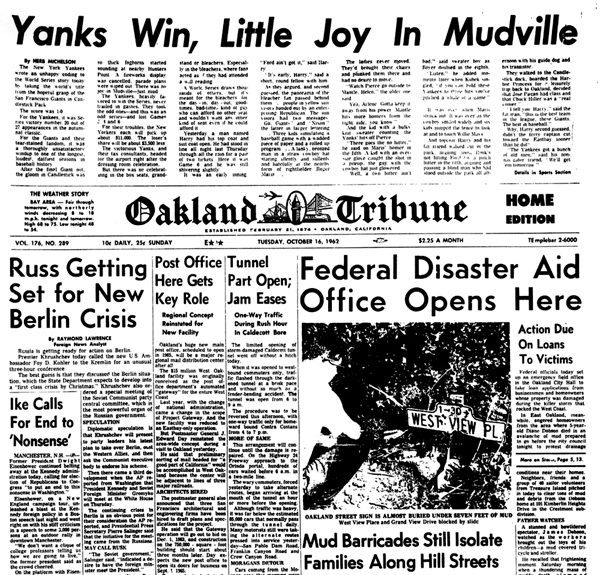 .