Snow Skiing on the Fourth of July
by Mark McLaughlin

In recent years wet winters have generated long-lasting snowpacks which have inspired some Sierra resorts to run chair lifts for skiers and boarders on the Fourth of July. The novelty of skiing snow in the morning and then swimming or sailing in the warm afternoon sun attracts thousands, locals as well as enthusiasts from California and Western Nevada.

The idea of selling snow sport in July may sound overly optimistic to folks blistering in triple digit heat in the lowlands, but the concept has a long history in the Sierra Nevada. California's first mid-summer ski tournament was held on July 4th, 1932, at the Sugar Bowl ski resort near Donner Pass. Snowfall amounted to double normal during th

"Roy Mikkelsen was the Far West's first truly great Alpine competitor."
— William B. Berry

e winter of 1931-32, and the Auburn Ski Club decided to take advantage of the exceptional conditions. They invited the best skiers in the West to participate in this novel promotional event. More than 200 men and women arrived by car via Interstate 40 and then hiked a mile and a half over mountain trails to witness the competition. Three classes of ski jumpers intended to launch from the snow deposition zone under the bluffs of the Sugarbowl. Among those entered was Roy Mikkelsen, whose jump of 226 feet was the longest of any American in the 1932 Olympics, recently held in Lake Placid, New York. The Auburn Ski Club also sponsored an unusual two-mile coed cross-country ski race, which was open to both men and women. Andrew Blodger, California's champion X-C racer was there, as well as Mrs. Sigrid Stromstad of San Francisco, the national women's racing champion that year.

Spectators dressed according to age and attitude. Some wore the serious regulation ski garb popularized by the American Olympic team at Lake Placid, while a few sun worshippers sported "skimpy bathing costumes." Many of the younger women present wore a modified ski outfit, featuring shorts and bare legs.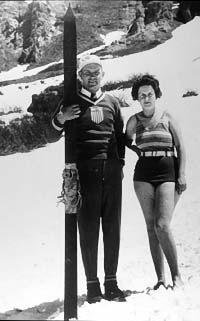 Held under a blazing sun the competition was exciting, but also a bit rigged. As host and sponsor of the event, the Auburn Ski Club had a ringer in Roy Mikkelsen who competed under the Auburn colors for the first time. Already an Olympic-caliber athlete and the best amateur jumper in America, Mikkelsen secured his all-around ski reputation with a double victory. Both his jumps were perfect leaps, and he followed that win by taking the sharp-turned 220-yard slalom ski race in 27.4 seconds, nearly four seconds better than his nearest competitor, Jess Maxom of the Truckee Ski Club. Andy Blodger, state cross-country champion placed third in the slalom with a time of 33.8 seconds. Nordic racer Sigred Stromstad did not place but defeated many of the men entered in the downhill event.
The Class A jumping competition, caught on motion picture film by W. Lowry, was intense with Mikkelsen fighting off Sig Vettestad, California's state jumping champion, who placed a close second. Mikkelsen later put on an exhibition jump in which he improved his winning distance by about ten feet. Wayne Poulsen, founder of Squaw Valley and member of the Reno Ski Club, competed in the Class C jumping event. On his last attempt Poulsen slipped just before he got to the takeoff, knocking down a pair of skis standing in the snow and sending one ski point-first toward a large group of spectators at the base of the hill. It missed the head of Wendell T. Robie, chief judge in the competition and first president of the Auburn Ski Club, by just three inches. The errant ski flew past and struck a woman spectator, who suffered a broken rib but luckily avoided a life-threatening injury.
The Sierra's first mid-summer ski competition concluded later that day, after which the sunburned skiers and spectators returned to their lairs for a hearty round of nightcaps and summer revelry in the mountains. Roy Johan Mikkelsen, a native of Kongsberg, Norway, continued to compete for the Auburn Ski Club, twice winning the U.S. Ski Jumping Championships. He was held in such high esteem that he was elected mayor of Auburn in 1952. Roy Mikkelsen thrilled on the challenge of Skisport and helped elevate California skiing to world class status, but that is a story to be told another day.
Mark McLaughlin's books Sierra Stories: True Tales of Tahoe, Vol. 1 and Vol. 2 are available at Truckee Books and The Bookshelf at Hooligan Rocks in Truckee; The Tahoe Store and Village Cards & Books in Incline Village, and Bookshelf at the Boatworks, The Store, and the Gatekeeper's Cabin in Tahoe City.