Bodie, California — National Cold Spot
Nevada is a region of climatic extremes, a land where surface temperatures have soared to a sizzling 125 degrees (June 1994 – Laughlin) or plunged to an Arctic-like 50 degrees below zero (January 1937 - San Jacinto). Few places in the world boast seasonal temperature swings of 175 degrees Fahrenheit, but Nevada is more unique than that.
Cool mornings and warm afternoons are the norm in the valleys of the Silver State, where temperature inversions are a regular feature. Nevada's su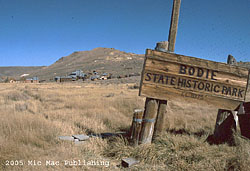 mmertime weather tends toward dry air and cloudless conditions, which encourages accumulated daytime heat to escape rapidly back into the atmosphere after sunset, a dynamic known as radiational cooling. Cooler air drains down from surrounding mountain slopes to pool in valley bottoms, forming intense shallow inversions. In the Spring, Summer and Fall, daytime heating rapidly warms the cold air in the valleys so that chilly mornings are quickly replaced by warm to hot afternoons.

In the Spring, Summer and Fall, daytime heating rapidly warms the cold air in the valleys so that chilly mornings are quickly replaced by warm to hot afternoons.

This diurnal (daily) temperature swing is common to mountainous topography, but Nevada's fluctuations are the most extreme in the nation. On October 20,1999, the temperature at Charleston shot up from minus 2 degrees to 70 degrees in just seven hours. The Silver State's all-time record for a diurnal temperature change occurred at Deeth on September 21, 1954, where the thermometer soared from 12 to 87 degrees, an increase of 75 degrees. (This radical diurnal swing is also the United State's record for temperature change caused only by daily local cooling and heating.)

The same atmospheric and topographic features that contribute to intense early morning inversions in this part of the country also generate some of the coldest summertime temperatures in the "lower 48." According to data compiled by Dr. David Hickcox, a professor of geography and director of environmental studies at Ohio Wesleyan University, nearby Bodie, California ranked first last year in frequency of recording the national low temperature. Bodie registered the nation's lowest daily temperature 71 times in 1999. The primary factor that causes these temperature swings is the extremely dry air of the Great Basin, as well as cloudless skies and cold air draining from surrounding mountain slopes. In addition, the atmosphere cools at an average rate of 3.2 degrees Fahrenheit for every 1,000 feet gained in elevation, Bodie's weather station located at 8,368 feet above sea level virtually guarantees cooler summer readings.

Prof. Hickcox, who has published his annual results in Weatherwise magazine for 16 years, uses a criteria that diminishes any single location's dominance and reduces the number of times a site will be a daily cold spot. Hickcox accepts temperature readings from small hamlets with populations of about 100 people and will also consider remote automated recording stations as well as locations such as Bodie, an abandoned mining town-turned-state park.

In contrast to Hickcox's methodology, the National Weather Service will only consider towns with a minimum of 2,500 inhabitants in their daily survey of the nation's hottest and coldest temperatures. Both criteria exclude Alaska and Hawaii.

Almost all of Bodie's national lows in 1999 occurred from June through early October, when high-elevation weather stations in California often record the nation's chilliest morning temperatures. In fact, in 1999, California stations recorded the most national low's with 80 total occurrences. Testament to our incredibly diverse regional geography (weather and climate don't respect state borders), California recorded both the national high and national low on 56 days during June, July, August, September and October. Death Valley, only 165 miles from cold spot Bodie, recorded the nation's highest temperature 86 times.